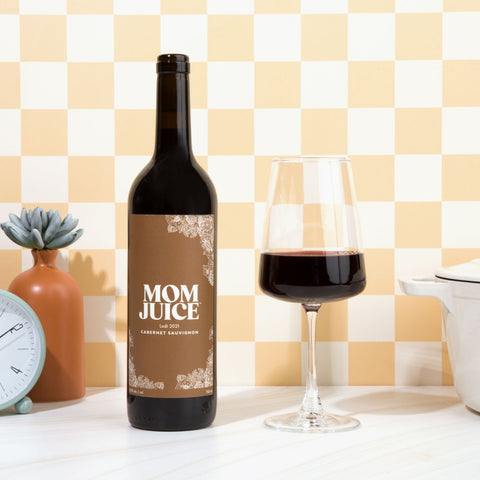 Mom Juice
2021 Lodi Cabernet Sauvignon
The perfect escape for moms who need a break from adulting (and not just hiding in the closet to sneak some chocolate).
Packed with flavors of rich dark fruit like black cherry, blackberry, and spice, this wine is the ultimate treat. The bright, black fruit is both deep and inviting, with a sweetness that'll leave you feeling like you've got this motherhood thing down pat. The long, soft, velvety, and sweet finish is the cherry on top of a day well done. So go ahead, pour yourself a glass and take a timeout - you deserve it, mama!
Serving Temperature + Recommendations
Serve this wine at room temperature
Food Pairings:
Aged Cheese
Grilled Ribeye
Burgers
Dark Chocolate
Grapes + Juice
Your Bougie Talking Points
Just North East of Napa, Lake County is a hilly growing area with vineyards planted between 1500 and 3000 feet in elevation. This is important for growing world class Cabernet Sauvignon. The elevation enhances the warm days and cool evenings which preserves the acid and produces a well-balanced wine.
Bold, rich, deep and dark
Soft entry with a sweetness of black fruit and spice
Nerdy Details
Chemistry, Ingredients and more
13.8% Alcohol by Volume
4.5 g/L Residual Sugar
5.2 g/L Total Acidity
pH: 3.82