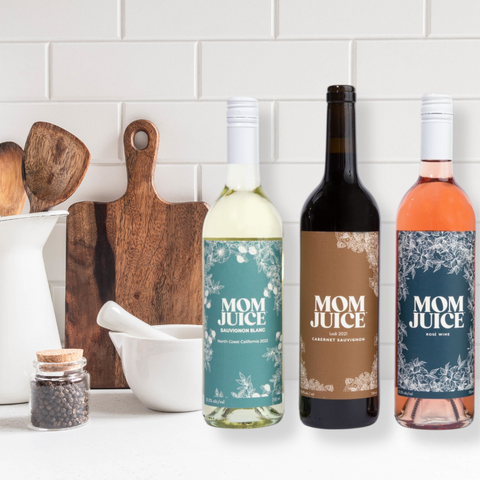 Mom Juice
The Throuple
Triple the fun! Get a taste of three of our Mom Juice varietals. Want all four? Click here
Rosé
Where there's a will, there's Mom Juice Rosé. Settle in with a big pour of "ahhh" and taste the delicate, tart, and strawberry notes with the sweetness only a glass of Mom Juice Rosé so generously gives.
12.5% Alcohol

Light Bodied

Semi-Sweet

Smells Like Strawberry
Sauvignon Blanc
Mom Juice Sauvignon Blanc is the ultimate elixir for moms who deserve a break from the daily grind (and we're not just talking about your partner doing the dishes).
13.5% Alcohol
Light Bodied
Dry

High Acid
Smells fresh and tropical
Cabernet Sauvignon
Unwind at the vineyard with a glass of the Mom Juice Cabernet Sauvignon. Enjoy the full mouthfeel (or full body) and the aromas of black cherry and baking spices. The perfect red wine for 5 pm (or 4 pm - that's fine too).
13.8% Alcohol

Full Bodied

Dry

Balanced Acidity
Now offering mutiple duo paring options :)
Great value and Great Wine
This is a great gift or to enjoy for yourself. Quality wines!!
Good Wine Great Value
although I've only enjoyed the Cabernet which i thoroughly enjoyed. i cant wait to try the other two. in fact the Rose' in chilling the fridge as i type.